Humanism is the only – I would go so far as saying the final – resistance we have against the inhuman practices and injustices that disfigure human history. Separation between peoples is not a solution for any of the problems that divide peoples. And certainly ignorance of the other provides no help whatever. Cooperation and coexistence of the kind that music lived as we have lived, performed, shared and loved it together, might be.
Edward W. Said
Our project may not change the world, but it is a step forward. Edward Said and myself see our project as an ongoing dialogue, where the universal, metaphysical language of music links with the continuous dialogue that we have with young people, and that young people have with each other.
Daniel Barenboim
CBS 60 Minutes Report on the work of Daniel Barenboim with the West-Eastern Divan Orchestra and the Barenboim-Said Akademie.On Sunday, April 1, 2018, CBS 60 Minutes aired a report taped in Ramallah, in the West Bank, and in Berlin, Germany, on the work of Daniel Barenboim at the Barenboim-Said Music Center, Ramallah, the Barenboim-Said Akademie, Berlin, and the West-Eastern Divan Orchestra.
Daniel Barenboim and the West-Eastern Divan Orchestra return to the US for five performances, Coast to Coast, November 5 – 11, 2018.
THE WEST-EASTERN DIVAN ORCHESTRA
The West-Eastern Divan Orchestra evolved to become a professional orchestra of exceptional quality, but the organization has stayed true to its commitment nurturing young musicians and thinkers.
BARENBOIM-SAID AKADEMIE IN BERLIN
The Barenboim-Said Akademie with its extraordinary concert hall Pierre Boulez Saal designed by Frank Gehry, offers an unprecedented conservatory education for talented young musicians from the Middle East, North Africa, and around the world.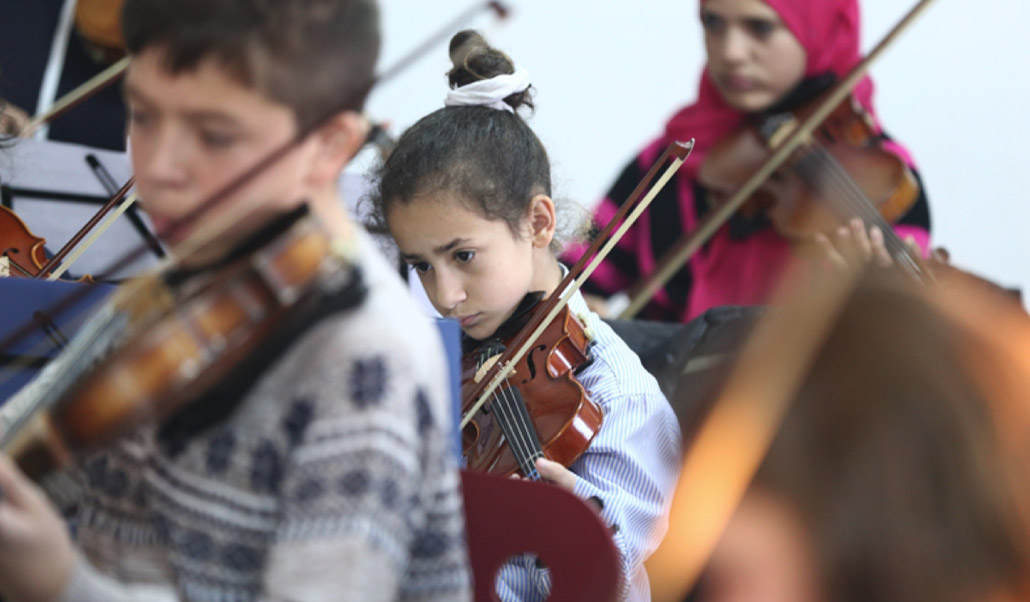 BARENBOIM-SAID MUSIC CENTER IN RAMALLAH
The Barenboim-Said Music Center iprovides music education for over 110 students from the age of 4-18 after school. The curriculum prepares the students to become professional musicians and gives them the chance to study at the Barenboim-Said Akademie in Berlin, Germany.
BARENBOIM-SAID FOUNDATION (USA)
435 Riverside Drive, Suite 122
New York, NY 10025
USA
Tel: +1 212 662 6004
Fax: +1 212 662 0030
Email: foundation@barenboimsaidusa.org